This is a general update of what I have been doing

Furry Times

Furry Times was successfully launched this past Sunday. While I have not received direct feedback it seems the local and international furry community received it very well. A few furries, of course, are butthurt, but I will reserve my comments about them.

The downside to this success is that, in any small community that bursts at the seams with special snowflakes, is that anything that one does and gets recognition for, is seen as a threat. Jealousy sets in rather quickly from that point onwards. So this has led to a massive blowup over at zafur.co.za again, the vent about "Community Representatives" [which by the way is the first ever incarnation of a furry union] became a free-for-all bar fight.

Furry Views and Explanations

What is a "furry union" you might ask, well, let me give you my personal view.

Over at zafur.co.za we have a situation where we have supreme leader, Lord Rakuen (a hopelessly obsessed nerd who thinks he is a Pokemon, despite 99.9% of us not taking copyrighted characters as a rule). This supreme leader cannot handle criticism, is slow to adopt any decision, no matter how good it is, and basically just says no to any suggestion or constructive input [is it any wonder the site looks like it has escaped from 2003 and looks just like it did in 2009]

So because this particular fur is such a tonsil, they need community reps i.e. the union, to fight him for change. Its a shitty job, nobody wants to do it (hell the lead CR resigned), and the two teenagers who are handling duties now decided to appoint their best bud into the position. This didn't go down very well.

Other Stuff

On the 1st of August 2016 I was diagnosed with Adult ADHD. So since this basically means that my life, until this point has been nothing but a clusterfuck,- this is as good a time as any to ring in the changes.

I am done, permanently with being an engineer. That means, no more requests for product design will be entertained, ever again. I do electronics mainly for pleasure, and mainly as a sideline business for fursuiters. While I will give advice, any request for product design will be ignored. The money is shit and I am not interested in taking on all that stress and pressure again. The risk/reward ratio is far too much to the left.
I am done being a software developer. I wound up doing that primarily because I needed a job at the time. Its no loss anyway, as it is incredibly difficult to get a job at present because I am white, because of my age, and because of no formal degree in computer science. For a creative person it quickly becomes more boring than watching paint dry. Once you can code, and know design patterns its the same old shit, day in, day out. Whoop-de-doo!

So I am about to embrace my creativity and start out in something totally different, graphic design, and industrial art, magazine layouts, etc.. that's what I want to do. Bit late to the party but not my fault. Had I been on treatment in my teens I would likely be in a very different position today.

So I am now working with Wogan May, on getting AnthroCulture going, and other new sites he is working on. We work on Furry Times together. This is by far, the best kind of work, I could do this for the rest of my life.
Powered by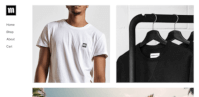 Create your own unique website with customizable templates.