In a universe, far away, in the year 2004, a blue hedgehog was a pretty good assembly language programmer. At home, tinkering with a LCD module on a weekend, he got it to work in graphics mode:


For this same LCD, which I had plans for, in a digital intercom- I took the font I saw in Windows XP (back then I had been using it for just over 18 months). Using my shiny new (at the time) AMD Athlon box I created the font the way I did it back then, in MS Paint, and wrote the pixel patterns down, then typed that all up in assembler running on a Freescale HC08 chip.

Here are the unedited, original files created around that time from the repository:


So what was this actually about?

Back in the day, I operated with naivete about the typical companies I worked for, especially in the Detroit knockoff known as Gauteng. This was an idea I had at home- a digital intercom. I offered to them later that year as a product concept- sadly I got rebuffed, no big deal. However I kept the font and used it as a demo for an LCD they were given as a sample on their trip to Hong Kong somewhere towards the end of 2004. So naturally to make things work and prove concepts I used what I had, and that happened to be this font.

Its a standard font in the public domain, so my thinking has always been that my "embedded" version is fine for GNU uses. However since I have been accused by this particular company at various times of "stealing their IP" in the past (read: they were butthurt that I went to work for one of their most ardent competitors) I have been reluctant to use this font again. However, since I note that the lead accuser has emigrated to Australia, and they have placed every single bit of code I ever wrote, into

FILE #13

, I have felt that its time to use the effort I once expended to create this, again.

I do this because:

I don't give a fuck anymore- they can try and make some accusations again but I do think DH has long since been happy with achieving his devious end, he became director, a position he craved from the git go at Daddy's company, the primary goal (the secondary goal was always to chase skirt/dip pen in company ink/date chicks at the office)
Since the font was created at home (in my parent's home), and the contract clause in my employment contract is long since unenforceable, they can go suck a cock for all I care.

From the word go, on all those files, my name existed. The other party involved was actually my dear old brother and he has long since made his end "GNU General Public License"



So, its been a while, but a good font never gets old. My original Trebuchet, ported to Alpha-X's display driver code, on a STM32F052 ARM Cortex M0, lives on:


Around the time of this work I did originally, I was enjoying this:
Powered by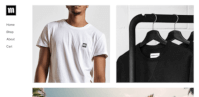 Create your own unique website with customizable templates.